Weed Wars is a marijuana themed social game available on SocialKicks.com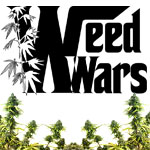 Weed Wars is a criminal game with a stoner twist.
Grow and distribute marijuana, complete crimes, build up repeat customers, and defend your self against rival growers and gangs.
Constant in game activity with thousands of players online DAILY!
New growers start off weak and with few financial assets, it would be wise for them to try and meet up with more seasoned players and possibly join a growers community. As soon as you get situated it is wise to complete a few crimes and get your cash situation worked out, and then begin building your grow room.

Become the biggest dealer, distributor and grower EVER. But if you really want to make an impact you are going to need to also do some "dirt"… commit crimes, attack other players, start or join a crew, and attack other growers for bounties.
Quick Links to Learn more about Weed Wars
Web design and graphics for WeedWars completed by FutureROI.com